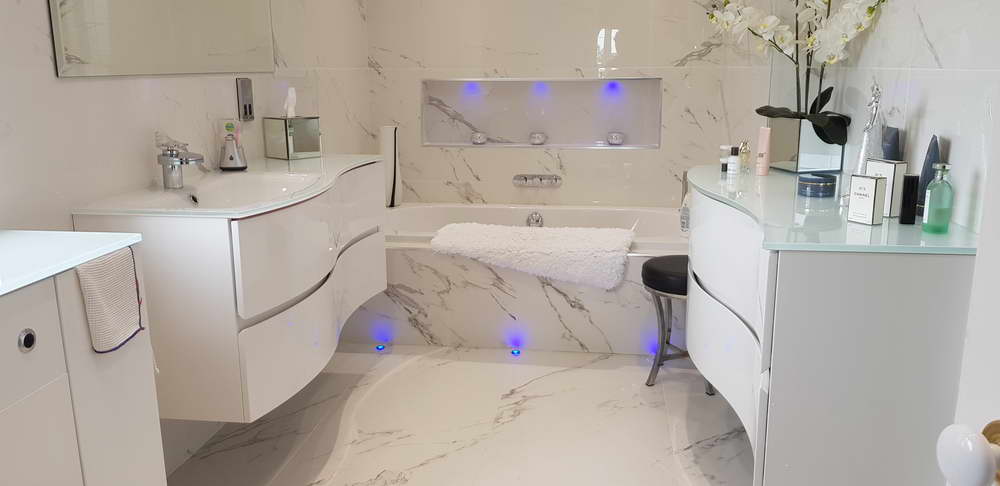 Tiling your bathrooms gives it a brand new look, enhancing its appearance. A beautiful bathroom makes you feel relaxed when you walk into it and is a great place to take long baths. You can choose to tile your house during a renovation to improve its look. If you do this, you are likely to make more money when you decide to sell. A beautiful bathroom fitting and tiling is also something that can make you feel better after a long day at work. You can choose tiles in your favourite colours to ensure that you feel positive and happy when you walk in.
We at Premium Tilers, are a tiling Bournemouth company specializing in bathroom tiling and bathroom fitting. Our team of bathroom fitters is experienced, knowledgeable, and passionate. Our team is professional and will take the time to talk to you, so we understand what you need and desire from your bathroom. We will endeavour to fulfil your requirements ensuring, you love your finished bathroom fitting. If you are looking for bathroom fitter in Bournemouth, Christchurch and Poole, ensure you contact Premium Tilers. We are actually covering all Dorset and New Forest with our bathroom tiling and bathroom fitting service.
Bathroom Fitting Services and Our Bathroom Fitters in Bournemouth
Bathroom fitting is not just to install tiles in a small room that eventually is a bathroom. No, it includes bathroom tiling indeed, but also tiling the walls and installing bathroom, toilette, sink and other utilities. Shower facilities also can be a part of a bathroom fitting service. Here are the services offered from Premium Tilers and our bathroom fitters Bournemouth.
Tile Installation
We offer premium quality tiling in Bournemouth, Dorset, but we also price our services on a budget and stick to it. Our team of bathroom fitters is experienced since we have been in business for the last 10 years. We are experienced in using a variety of tiling materials to ensure that your house looks perfect and by your standards. Installing tiles and bathroom fitting during construction is a great way to ensure you have a beautiful bathroom. Our tiling Bournemouth team can work with a variety of materials and techniques.
We know our bathroom fitters and what they can handle, and we will find you an expert. Premium tilers in Bournemouth installs porcelain, slate, mosaic, Victorian tiling, marble, glass, among other types of tiles. If you are looking for something unique for your home, you should talk to us. We will ensure that we get the material you are looking for and install it accurately.
We have a bathroom fitting in Bournemouth that will help you choose the tiling style for your bathroom. It must suit and match with the rest of your home, and our design expertise will help you achieve this. Bathroom fitters from Premium Tilers Bournemouth will also help you choose the tile type depending on your budget, the people in your home, and how long you intend to live there.
Bathroom Renovation
Bathrooms are generally wet, and that enhances bathroom fitting wear and tear. The water can also cause mould growth depending on the type of material used. A renovation is a great way to give the room a fresh new look and make it even more appealing. People usually choose to renovate your bathroom when your children leave for college or before moving into a new house.
Renovating your bathroom will require tiling in Bournemouth to ensure that it looks beautiful. When renovating your home, it is essential to consider the bathroom fitting style, your preferences, and your budget. If you have a large amount of money at your disposal, you can settle for luxurious tiling such as porcelain and marble. Our team understands that you want to make your home beautiful, and they will listen to you and give you a variety of tiling in Bournemouth design options.
We are bathroom fitters that have worked with many homeowners and businesses in Bournemouth, Dorset to create exceptional domestic tiling and commercial tiling and can do the same for you. Our bathroom fitting team is customer-focused and will listen to you and provide a list of excellent options. If you are looking for bathroom fitting during a renovation, call Premium Tilers at 07450048918.
Underfloor Heating and Wet Room Installation
We also do underfloor heating for all our customers. If you want to add underfloor heating in your bathroom area for your home or hotel, we are the people to call. We have been offering tiling Bournemouth services for a long time, making us perfect for such a job. We will install the heating system and then cover it up with excellent tiles. Bathroom fitting and tiling in Bournemouth works for wet rooms because tiles are durable, low maintenance, and are unlikely to encourage mold growth.
The Premium Tilers and our bathroom fitters will ensure that the room is perfect. Since we are experienced and knowledgeable, the tiling team in Bournemouth will install the heating system and cover it with a beautiful floor and walls. We endeavor to satisfy all our bathroom fitting customers, and you can be sure you will get excellent service.
Bear in mind that we provide bathroom fitting maintenance service for our underfloor and wet room installation customers. The system must work well to ensure that you or your customers are comfortable. In case you have any problems with the system in Bournemouth, Dorset our Bournemouth fitters will come in and make the necessary repairs.
Plumbing Services
Together with bathroom fitting and bathroom tiling we also provide plumbing services to our customers in Bournemouth, Christchurch, Poole and all Dorset and New Forest. If you're renovating or constructing a new house we can install your plumbing and tile your bathrooms. Good plumbing ensures that you have good water pressure in the shower, lower chances of an emergency repair, and improved home value.
Benefits Of Hiring Premium Tiles Bournemouth
The main benefits of hiring Premium Tilers and our bathroom fitters:
Correct Installation
Unique Designs
Experience
Professional
Correct Bathroom Fitting And Installation
If you hire our Premium Tilers Bournemouth, we will ensure that your tiling and plumbing system are accurately installed. Our bathroom fitters and tilers are knowledgeable and experienced and will ensure that your bathroom looks beautiful and is up to your standards.
Unique Bathroom Designs
Our bathroom fitting team is experienced and knowledgeable and will create excellent designs. We are passionate about design and regularly attend workshops to learn new bathroom fitting design techniques.
Experienced Bathroom Fitters in Bournemouth
We have been in the bathroom fitting business for the last 10 years and have gained experience. Our team of bathroom fitters in Bournemouth will do the work quickly because we are experienced and are unlikely to make mistakes. Usually, little things that some other tiling specialists wouldn't notice or pay little attention can play a bad role over time. While our experience and expertise will spot and avoid such imperfections.
Professional Bathroom Fitting
Or team of bathroom fitters is professional and will take the time to talk to you and understand what you need. We ensure that all our clients in Bournemouth, Dorset, get the best bathroom fitting services possible. As mentioned above, we are customer-focused and will ensure that you are satisfied.
At Premium Tilers Bournemouth we pride ourselves as very passionate and perfectionists in bathroom fitting. We are experienced and have worked with big companies as well with a lot of individual customers all over Dorset and New Forest. Our bathroom fitters are professional, knowledgeable, and passionate. If you are looking for bathroom fitting services in Bournemouth Dorset, call us for a quote today on 07450048918.